Best Pediatric Care
in Hyderabad
15+ Years of Expertise
in Pediatrics & Neonatology
Book Appointment
Best Gynecologist
in Hyderabad
10+ Years of Expertise
in Gynecology & Fertility Treatments
Book Appointment
Why Choose Brundavan?
Comprehensive Care for
All Your Gynec & Pediatric
Needs Under One Roof!
Gynecology
Best Gynecologists in Hyderabad to help you with any & all Gynec Conditions…
Neonatal Specialist
Medical care of newborn infants, especially the ill or premature newborn.
Obstetrics
Personalised care from the moment of conception to delivery & beyond….
Extreme preterms
Extremely preterm, born at or before 25 weeks of pregnancy.
Laparoscopy
Minimally invasive procedures to deliver best medical & cosmetic results..
Extremely LBW
Treatment for LBW cases with comprehensive medical care unit in place.
Best Gynecologist in Hyderabad
12+ Years of Expertise in Gynecology
Brundavan Women & Child Care Centre is one of the leading gynaecology hospitals in Hyderabad led by Dr Gitanjali, one of the best gynaecologists in Hyderabad. Brundavan Women & Child Care is committed to fulfilling the health care needs of all the women regardless of their age with quality and compassion. At Brundavan we focus on the individual needs of every patient in a professional patient friendly atmosphere.
Our treatments & pregnancy care packages are personalised to each patient fulfilling their needs. Our staff is trained to handle obstetric patients with love & care that they deserve.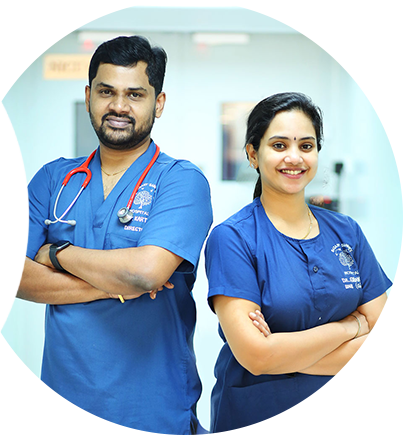 Obstetric Care
World CLass Care for the to be Mothers
Pre Pregnancy COunselling
Our gynecology & fertility specialists can help you achieve pregnancy by counselling you and advising you about suitable days for conception, performing medical interventions if necessary to boost your chances at getting pregnant.  
Antenatal Care
Prevention is better than cure is what we believe in. We at Brundavan screen the would be mother for any potential health problems through out the pregnancy. Antenatal care also called prenatal care helps protect both the mother and child from unforeseen health problems.
PainLess Labour
At Brundavan we offer painless delivery for the ones who need it. Painless delivery is acheived via epidural injections which are safe and can help the mother relax to concentrate on delivery.
PostNatal Care
As you and your new born need the same amount of care taken before the delivery. Our postnatal care specialists and staff can provide gentle and loving care to both the mother and the new born.
Pediatric Care
Medical diagnostics and treatments of the infants till grown up.
Happy Families About Us
Testimonials
Dr Gitanjali is one of the best gynecologists in Hyderabad. She was empathetic to my problem and listened to me with a lot of patience. She assured me of the treatment and thank god it was successful.

Mrs. Karthika

Best doctor for PCOD treatment in Hyderabad. I visited a couple of gynecologists before visiting her and with Dr Gitanjali I found a solution to my PCOS problem. Thank you doctor.

Mrs. Sarojini

Dr Gitanjali delivered my baby and the care she and the staff gave us was exceptional. If you are pregnant and looking for Gynecologist who can take care of everything, Dr Gitanjali is the one.

Mrs. Priyanka

Both the staff and the doctor were very helpful through out my pregnancy. They guided me and helped me in every way possible. Thank god I chose Dr Gitanjali for my first delivery, it was a wise decision.

Mrs. Neha Chowdhury

Took my daughter to Dr Gitanjali to get her treated for heavy menstrual bleeding. Dr Gitanjali helped us a lot. Very grateful for her.

Mrs. Sushma Rao

I was suffering from Urinary tract infection. Dr Gitanjali treated my infection and it was successful. She is very kind and sympathetic toward patients problems

Mrs. Preethi
In the News
Follow us on our blog to stay upto date on latest in Gynecology, Obstetrics & Fertility Treatments.